2019 Best Military-Friendly Online Colleges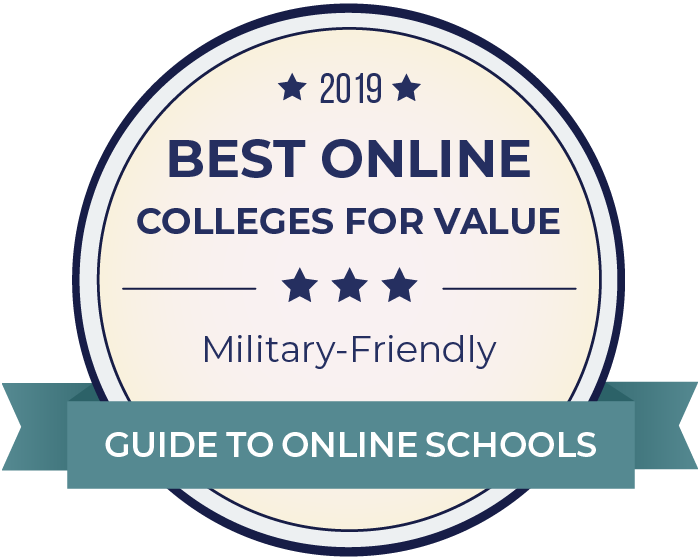 These 50 online military-friendly schools are dedicated to serving the unique needs of military servicemembers, veterans, and their families. They all participate in the government Tuition Assistance (TA) program and provide strong military communities and support networks for military-affiliated distance students. We also highlight our Best Yellow Ribbon online schools, which do not impose a cap on the number of students admitted through the Yellow Ribbon program or the amount of financial contributions offered to them, as well as our list of the most affordable military-friendly online schools, which all have annual tuition rates under $16,000.
View our methodology or learn more about Guide to Online Schools.
List of Military-Friendly Accredited Online Schools ()
Best Yellow Ribbon Online Schools
Beyond our overall list of military-friendly online colleges, we have created a list of the best online schools that support an unlimited number of students and offer unlimited financial contributions through the Yellow Ribbon Program. The Yellow Ribbon Program allows colleges and universities to choose to support a certain number of veterans with funds that go towards tuition, which the U.S. Department of Veterans Affairs then agrees to match.
Our internal scoring system is based on government collected data from the GI Bill Comparison Tool, which provides veterans, servicemembers, and dependents with information about their Post 9/11 GI Bill benefits and Veteran Affairs approved schools. You can read our full methodology here.
This website offers school details to prospective students as an informational resource. The appearance of a school listing on this website should not be interpreted as an endorsement by the school of this site.